Bad Eggs
Bad Eggs
Bad Eggs is a simple TTRPG tool built in TIC-80. We made it for our home game, and as a proof of concept for other similar tools we might make in the future. It's very simple, and will not receive any major updates outside of additional art and minor aesthetic changes. The code is very poorly organized, and is nowhere close to optimized. Engage with the source code at your peril (it's probably fine, just don't judge me).
Create a New Baddie
Generate a new baddie by hovering the mouse over the + icon, and clicking Goon or Face. Goons are simple, weak enemies; Faces are more formidable.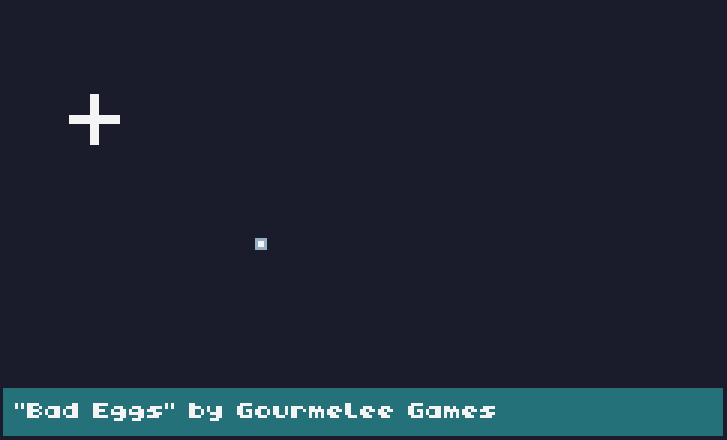 Damage, Change, or Delete.
Track damage to the baddies by clicking the VIT area. If a baddie has 0 VIT, click again to heal them back to full VIT. To re-generate a baddie, click the baddie's portrait while they have more than 0 VIT. To delete a baddie, click their portrait when they have 0 VIT.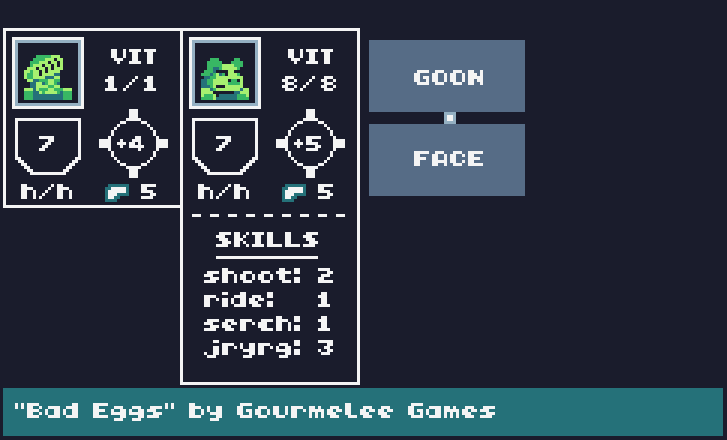 Combat Stats
The number in the crosshairs is the baddie's "to hit" bonus. The number below it next to the weapon icon is the amount of damage the baddie deals on a hit. Switch between melee attack statistics and ranged statistics by clicking the weapon in the bottom right corner.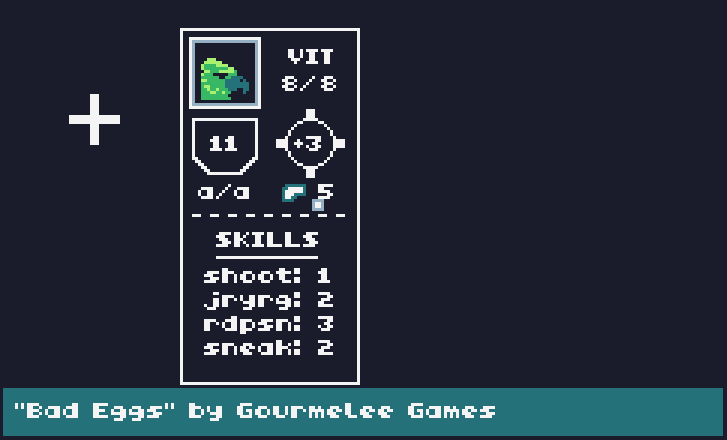 Defensive Stats
To view a baddie's defensive stats, click the area with the shield and crosshairs. You can view a Face's complete stats by clicking again. Goons only have defensive stats.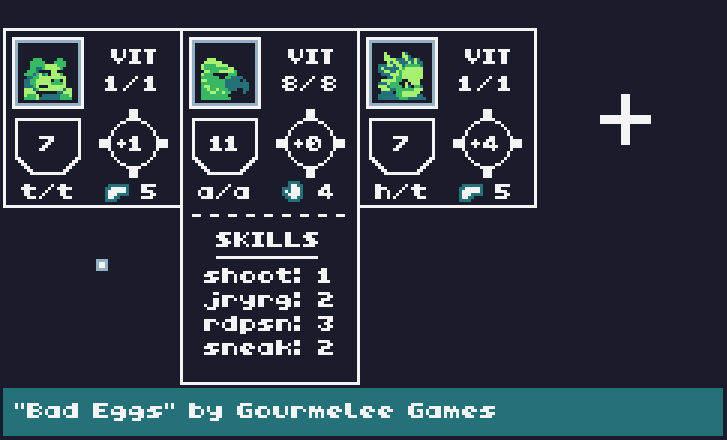 Credit & License
Bad Eggs was developed by Jon Stapleton (@jstapes) with art by Sloan Smith (@artplebe) and the Heroic Creature Pack on itch.io.
The code, art, and text in this tool are licensed under CC-BY-SA-2.0. If you wish to use the tool in whole or in art in a commercial product, you must 1) license your commercial product under the same license, 2) release the source code for your product under the same license or GPLv3 as appropriate, and 3) prominently display the following text on your product:
This product includes derivative work based on Bad Eggs by Gourmelee Games. It is therefore licensed under CC-BY-SA-2.0 in compliance with the originating work's license. You may create derivative work based on this product, provided you include this text prominently as a part of the work.
Additionally, any for-profit private entities meeting any of the following criteria are expressly forbidden from making use of this tool, in whole or in part, without explicit written permission:
Employs more than 100 full-time, part-time, or contracted employees
Generates greater than $1,000,000 USD in revenue annually
Participates in any cryptocurrency market (including producing/selling non-fungible tokens, coins, or other financial products incorporating blockchain technology)
Please contact Gourmelee Games through this website if you have questions about using this tool in compliance with its license terms or producing derivative work.
Download
Click download now to get access to the following files: